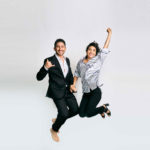 Bryan Vasquez
Founder | Designated Broker Realtor
Let's Work Together!
Specialties:
Coaching, Listing Agent, Relocation, Distressed-Sales, Consulting

As PLAYYCE® Professional Real Estate Consultants we have committed to The 8 PLAYYCE Principles and have surrounded ourselves with the resources and vast network to deliver on the questions that we are presented with on a daily basis. We look forward to providing you answers and solutions for your real estate needs, so that you can be happy and confident when we help you find your perfect PLAYYCE.
Background: Before Bryan & his wife Founded PLAYYCE, he brought an array of life experience from his time as an EMT, remodeling homes, producing films, bartending and entrepreneurial endeavors. He also has been involved with many leadership programs over the years.
Career: Bryan has been a licensed real estate professional for nearly 2 decades, personally helping hundreds of people through their home purchases and sales.
Areas of Focus: Bryan is currently focused on taking all he has learned, and applying that knowledge into helping as many agents as he can, help as many clients as they can. So that agents make a livable income while still having a sense of life balance and clients get amazing service. A true win-win model.
Family Life and Interests: Bryan and his wife are avid runners, hikers, yogis and lovers of food.
Fabulous Flaw: Over hosts & misses the party.
Super Power: Makes some decent wood fired King Crab legs featuring a seasoned non-butter dipping sauce.
Favorite Podcast: RadioLab & Freakonomics
First Job: Dropping cards in a neighborhood for exterminator services.
Favorite Vacation Spot: Barcelona, Spain